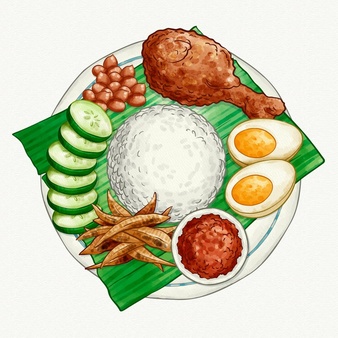 Indo = Malay Food?
Nasi Lemak
This food is normally consumed by Malaysian citizens during breakfast. Something sweet comes out from the rice because the fragrant rice dish is infused with coconut milk that is always served with fried anchovies, sambal (spicy sauce), and fried egg. This favorite breakfast dish is also known as "Nasi Uduk" which Indonesian-style steamed rice cooked in coconut milk.
2. Nasi Tomato Goreng
Nasi Tomato Goreng (English: tomato fried rice) is the development of a common dish for breakfast in Indonesia which is Nasi Goreng (fried rice). This food has a rich and sweet flavor mainly from fresh tomatoes and ketchup also always being the favorite among adults and children.
3. Kwetiau / Kway Teow
Indonesian food and Malaysian food are both influenced by the Chinese touch. However, Malaysian kwetiau seems like it is darker and sweeter compared to Indonesian kwetiau. Most Indonesian prefer to have a spicy flavor food that impacts the kwetiau in Indonesia more concentrated with its spaces and meat.